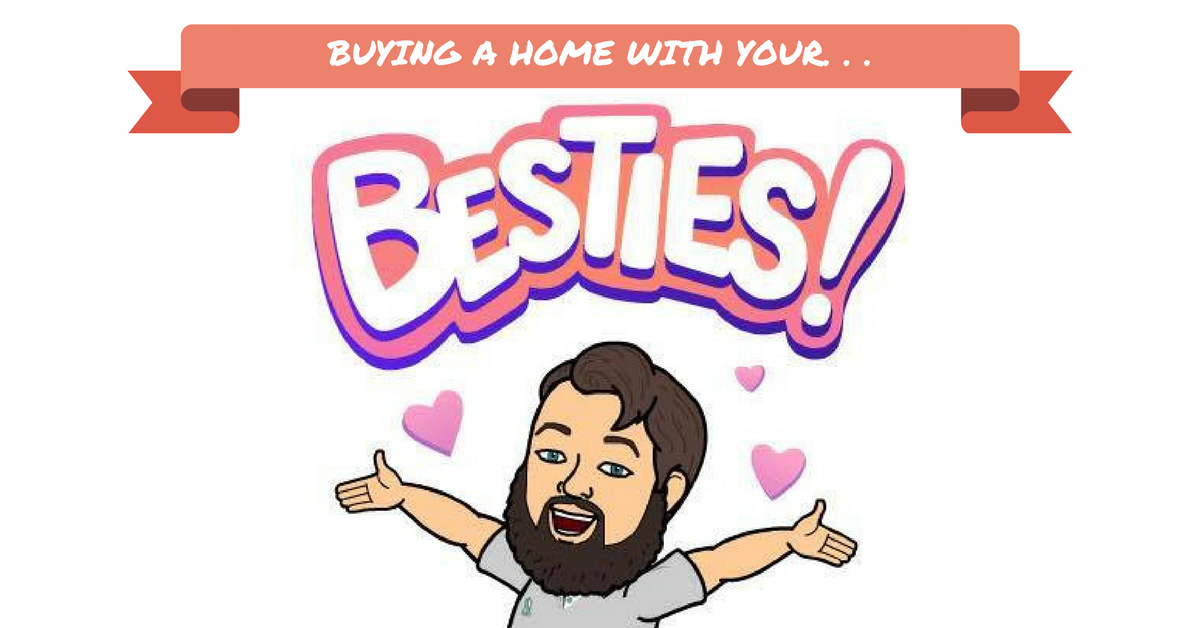 Have you always wanted to purchase a home, but haven't found that special someone to do it with yet? Think about this: Despite the many legal documents required at a closing, a marriage certificate is NOT one of them. Your friend, your relative, or a future spouse could be the person sitting with you at that closing table.

According to the "2015 Profile of Home Buyers and Sellers" from the NATIONAL ASSOCIATION OF REALTORS®, nearly 400,000 couples who bought homes did so outside of a traditional marriage.
I think these days, a lot of people are saying "I DO" later in life, apparently about a whole seven years later compared to the 1950's (According to the US Census Bureau).
For a lot of people, owning a home with someone else means a nicer home than you could get by yourself, lower monthly expenses/bills and a great chance to make some home equity. That being said, home ownership is NEVER a decision to be made lightly. Life happens, disputes, goal changes, and it's a LOT more difficult to sell a home than it is to terminate a rental contract.
Here are some things to consider when thinking about buying a home with a friend or non-married loved one:
Do You Have Similar Goals and Lifestyles?
Does one of you smoke and not the other? Does one of you have a pet? Does one of you love it warm, while the other wants it cold with fans on? It's a lot less scary to take a risk on a roommate when you're renting vs. owning. Make sure you're very compatible before taking that leap!
Does Everyone Involved Have Their Financial 'House' in Order?
You must be super up front and honest with your new potential roomies when it comes to making a long-term, huge financial purchase together. Even the best-est of relationships can be trashed because of money disputes. If someone has a mess financially, you want to know up front, and possibly go a different direction.
What's Your Exit Strategy?
Although buying a home with a friend may not be a life-long commitment, it's still going to be a lengthy partnership. Most people are in a home for no more than 7 years. Sharing a house for those years maybe benefit everyone, however, one of you may meet a life partner or get transferred, etc. There will come a time that you just might not want to live with them for that long. You must plan ahead to address these situations before signing anything. Prospective co-owners should talk about how to deal with the end-of-contract issues and consider having an attorney write them up for you. Possible scenarios could include:
What length of notice will you require if someone decides to leave the agreement?
Are there buy-out options for the remaining owner? What will they be?
How will you agree on a fair market value of the home?
At which point will you ask an unsuitable co-owner to leave?
If the co-owners are older, are there end-of-life conditions in place for the surviving co-owners? What about their heirs?
Please get things in writing. It can help you avoid what could be a very messy situation.
The Steps to Buying a Home With A Friend
Chat with a Lender. There's NO marriage requirement to get a loan (except with VA). The biggest thing is that all buyers need to be on title so they're protected.
Find a KILLER agent (That's MEEEEEEEEEEEE). Find a REALTOR® that's enthusiastic about making your situation work. You and your buying partners may have completely different expectations, and a great REALTOR® can help make that go as smoothly as possible from the first offer to the closing table.
Legal Advice. Contact a Lawyer. Don't write up your plans on the back of a napkin. Please review everything above and get it in writing-Lawyer speak- is paramount to a successful co-ownership.
FIND YOUR DREAM HOME! With a friend (multiple) in tow and you'll be able to afford more house than you could get by yourself. Maybe that renovated kitchen and 3 car garage are still possible..
When you're ready to take the home buying plunge, please reach out as we'd be thrilled to be by your side. Contact us!
In the meantime, Please take a glance at my HOME SEARCH APP ( https://cvgc.mobility.re/#/share ), and start clicking away (Just enter your name, number and email).